Why Should We Hire You?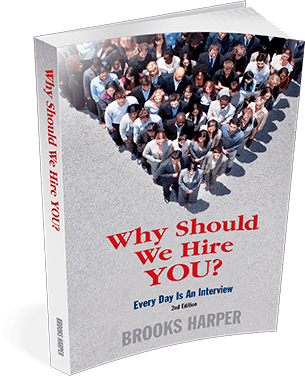 FACTS TELL, STORIES SELL! Brooks shows job seekers how to tell their story and communicate their value to the workplace. "Why Should We Hire You?" has been incorporated into Economics, Business, and Career Success curricula as the go-to-book for teaching interview skills, self-marketing, and personal branding. If you would rather hear, "YOU'RE HIRED!" instead of "We'll call you" then add this book to your shelves TODAY!
'Brooks' books are a BIG hit with our educators!"
CONTACT US FOR DISCOUNTED CLASSROOM SET AND BULK PRICING (Each classroom set comes with FREE curriculum and printable worksheets for easy assignment and instruction!)
"Why Should We Hire You?" is available for your personal library or classroom. Brooks is happy to sign your copy if you leave him a message on the order page.
$14.99 + S/H (US Orders Only)
CLASSROOM SET and BULK ORDER PRICING AVAILABLE UPON REQUEST – (Each classroom set comes with printable worksheets for easy assignment and instruction.)
---
Please fill out form to receive pricing for bulk orders
---